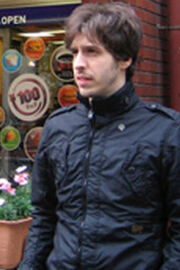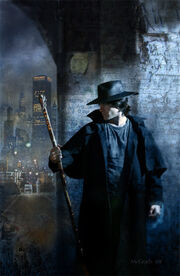 Chris McGrath
is a cover artist for Urban Fantasy, Fantasy, and Science Fiction and Historical Fiction. He has become known as the face of Urban Fantasy.
Type of Cover Art
Edit
Urban Fantasy, Fantasy 
About the Artist
Edit
Chris McGrath was born in the Bronx and has lived in and around NYC his whole life. At an early age he quickly became interested in art, especially science fiction and fantasy. After seeing the art work of Frank Frazetta at age 12, he knew right then that he wanted to be a book cover illustrator for science fiction and fantasy novels. After graduating from The School of Visual Arts in NYC, Chris gave guitar lessons for several years before beginning his career in 2001. Since then he has done covers for the New York Times best selling authors such as: Jim Butcher, Brandon Sanderson, Kat Richardson and Rob Thurman to name a few. ~ christianmcgrath.com
Beginnings as a Cover Artist
Edit
Chris McGrath's first Urban Fantasy commission was Dead Beat by Jim Butcher from The Dresden Files. His second Urban Fantasy cover was Nightlife by Rob Thurman from the Cal Leandros series. The image for his first book cover is titled "The King" for Ace Books which he painted in oil. ~ from: Ranting Dragon: Interview
What was it like, meeting Jim Butcher a couple years ago at NYCC? Had you met him before then? I met Jim at Icon in NY several years ago. It may have been right after I did the White Night cover. Jim was cool! What else is there to say? I'm glad he can talk up a storm because I wouldn't be able to get the ball rolling with a crowd like that. After a while with me, you would hear crickets. I can see why Jim is a writer. He has an awful lot to say or else he might explode. ~ Interview | The Ranting Dragon
Urban Fantasy Publishers
Edit
Urban Fantasy
Edit
Moat well-known authors and series:
Blended Urben Fantas with other Genres: 

Steampunk & Historical Fantasy with Paranormal elements;

Everything else: PNR, YA, Fantasy, UF-Sci-fi, Horror:
External Links
Edit
Reference Links
Edit
Official Website
Other Chris sites: 
Galleries, Lists of Art: 
Interviews: 
Articles:
Bio:
Book lists: 
Galleries:
McGrath / Dresden mugs & tees: 
Publishers: 
Chris McGrath Gallery
Edit
First Gallery: Urban Fantasy
Second Gallery: Blended Urban Fantasy—mixed with other genres: Historical-UF, Fantasy-UF, Steampunk-UF, etc.
Third Gallery: Not UF—Fantasy, SciFi, Historical Fantasy, Historical Fiction, Thrillers, 
Community content is available under
CC-BY-SA
unless otherwise noted.