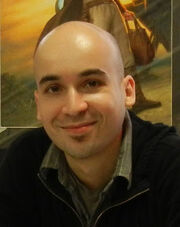 Dan Dos Santos, Cover Artist
The Art of Dan dos Santos : Gallery
Type of Cover Art
Edit
Dan's work spans a variety of genres, including novels, comics and film. He has worked for clients such as Disney, Universal Studios, Boeing Aircraft, Saatchi & Saatchi, Scholastic Books, The Greenwich Workshop, Penguin Books, Random House, Tor books, UpperDeck, Wizards of the Coast, and DC Comics. ~ The Art of Dan dos Santos : Bio
About the Artist
Edit
At an early age it was pretty apparent that drawing was what I was good at. I had all the necessary skills; hands, eyes, and an incredibly compulsive personality that assured I would spend days on a single drawing until I thought it was perfect. Growing up, I spent nearly all of my spare time drawing my favorite cartoon characters with my older sister. We would draw them on rolls of butcher paper, sometimes up to 4 feet tall, challenging ourselves with the long task of coloring the entire image. Three years my elder, my sister instilled me with a strong, and sometimes obsessive, sense of competition. I was compelled to color better, faster and more "in the lines" than any child should.
By my teenage years I had moved onto comic books, a passion I still hold dear. I spent every cent of my allowance on those artists I admired so much. I would redraw all of my favorite panels, often times creating my own comic books. By this point, I was certain that I was going to be an artist when I grew up. My parents, however, took a little more convincing.
My local high school sponsored a program called "Careers in Art". The program placed students in a weekly internship with a design company or working professional. It was through this program that I met my long time mentor. Through him I learned the basics of illustration, and thus decided to choose that as my major when I would enter college.
After convincing my parents to help me pay for art school, I attended the School of Visual Arts from 1996-2000. Having only done one painting prior, it was there that I honed those skills and came to love the traditional art of oil painting. Once again, I thrived on the competition, some of the best the country had to offer. I graduated the top of my class with a B.F.A. degree in Illustration, and received that years "Special Achievement" award in my major.
After graduation, with some scholarship money in my pocket, I embarked on what would quickly turn into my career. I started painting portraits out of my parent's basement. Eventually, I was making enough to rent a studio. I found a gallery to represent my fine arts, and starting pursuing my dream of becoming an illustrator.
His illustrations have graced the #1 spot on the New York Times Best Seller list numerous times. Aside from freelance illustration, Dan also co-hosts a series of instructional demonstrations called 'Art Out Loud'. ~ The Art of Dan dos Santos : Bio
Urban Fantasy Series, Books & Authors
Edit
Dan has been the recipient of many awards. Recently, he has received a 2010 Silver Medal from Spectrum, the 2007 Jack Gaughan Award for Best Emerging Artist, and was the Chesley Award winner for Best Paperback Cover of 2007. ~ The Art of Dan dos Santos : Bio
Urban Fantasy Clients: Publishers & others
Edit
Dan Dos Santos - Artist/Painter ~ client list
Disney, Universal Studios, Boeing Aircraft, Saatchi & Saatchi, Scholastic Books, Ace Books,The Greenwich Workshop, Penguin Books, Random House, Bantam Books, Tor books, UpperDeck, Wizards of the Coast, and Dark Horse Comics. His work has also been reproduced as posters for the School of Visual Arts and the Society of Illustrators and included in the permanent collection of General Electric. ~ TLC Workshops: Meet the Faculty! - Dan Dos Santos
Reference Links
Edit
Official Websites
Blogs, etc: 
Interviews and FAQs:
Galleries:
Book lists:
Bio:
Instruction / Process: 
Community content is available under
CC-BY-SA
unless otherwise noted.