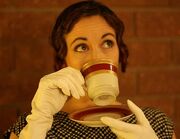 Gail Carriger
About the Author
Edit
New York Times Bestselling author Gail Carriger writes to cope with being raised in obscurity by an expatriate Brit and an incurable curmudgeon. She escaped small town life and inadvertently acquired several degrees in Higher Learning. Gail then traveled the historic cities of Europe, subsisting entirely on biscuits secreted in her handbag. She resides in the Colonies, surrounded by fantastic shoes, where she insists on tea imported from London. Gail's books are published in over a dozen different languages and she received the Prix Julia Verlanger from French readers.
The Parasol Protectorate series begins with Soulless which won the ALA's Alex Award and has been turned into a graphic novel and optioned for TV. Her young adult Finishing School series begins with Etiquette & Espionage and follows the exploits of Sophronia, a young woman who discovers her dreaded lady's seminary is a great deal more than she thought. In the Custard Protocol series, beginning with Prudence, Rue and her crack (or possibly cracked) dirigible crew get into trouble around the Empire on behalf of queen, country, and tea. Gail also has a full cast audio production of her YA sci-fi Crudrat. ~ Parasol Protectorate Wiki
Steampunk / Urban Fantasy / Young Adult
Writing Style
Edit
To expand the table, in Edit–Visual mode, right-press on a Row of the table (Control-press on a Mac)—choose add Row or Column. Or, in Source Mode: copy-paste rows.
Genre Key:  UF=Urban Fantasy, RUF=Romantic Urban Fantasy, PNR=Paranormal Romance, YA-UF=Young Adult Urban Fantasy, SP=Steam Punk, UF-SF=Urban Fantasy/Sci-Fi, PA-UF=Post-Apocalyptic-UF,
Other Writings
Edit
Anthologies:
Freebies:
Cover Artists
Edit
not listed
See Also
Edit
See Category links at bottom of page
External References
Edit
Bibliography / Books:
Series Pages:
Author:
Book Devoted Sites and Fan Sites:
STEAM PUNK: 
Gallery of Book Covers
Edit
Community content is available under
CC-BY-SA
unless otherwise noted.