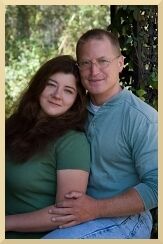 Ilona Andrews — Authors. They are the husband and wife writing team of Ilona Gordon & Andrew Gordon.
ILONA ANDREWS — #1 New York Times Bestselling Author
Urban Fantasy / Sci-Urban Fantasy / Romantic Urban Fantasy / Urban Paranormal Romance
✥ Their primary genre is Urban Fantasy, however, they play around with genres, blending and mixing and over-lapping with other genres. At times, a work is hard to define in terms of genre, such as The Edge Series. Ilona Andrews always brings something unique and inventive and alive to anyhing they write. The worlds they create are utterly imaginative and unique awing all who read their work. 
Additionally, their books are known for how well-written they are. They seamlessly create their uniquely imagintive world-building and richly drawn characters without ever info-dumping. Their characters are layer, never cardboard and the leads are easy to like. The plotting is usually tight with few holes and action always tense and lively. 
They are genre-benders coloring outside the genre lines and still making all they do beautiful and awesome.  ~ Hopestar, site admin
✥ "trademark snappy dialogue/narrative and action-packed scenes" ~ Biblio  Belles
| Series Title | Sub Genre | Supernatural Elements |
| --- | --- | --- |
| Kate Daniels series | PA-UF | Magic, Shapeshifters, Vampires, Necromancers, various creatures  |
| Kate Daniels World | PA-UF | Magic, Shapeshifters, Vampires, Necromancers, various creatures |
| The Edge Series | Romantic UF / Fantasy | Magic, Ulternate Worlds, Shapeshifters, Necromancers, various creatures |
| Innkeeper Chronicles series | UF, SciFi-Fant | NEW—Alpha-strain werewolves, armored vampires, magical broom, magical-sentient B&B Inns, guests from other planets & dimensions, alien supes, Aliens, programmable viruses, alien invasions, inter-galactic wars, |
| Alphas series | UF | NEW—Shifters |
| Hidden Legacy series | UF/PNR | NEW—Mages |
| | | |
Genre Key:  UF=Urban Fantasy, RUF=Romantic Urban Fantasy, PNR=Paranormal Romance, YA-UF=Young Adult Urban Fantasy, SP=Steam Punk, UF-SF=Urban Fantasy/Sci-Fi, PA-UF=Post-Apocalyptic-UF,
Anthologies & Shorts: 
~ Kate Daniels stories:
7.5. "Magic Steals" in Night Shift (Expected Release: Nov 25, 2014) (Jim and Dali novella #2)

~ Other Series or No series:
Freebies: 
Freebies: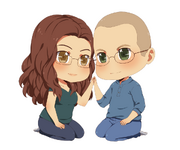 Ilona Andrews "Ilona Andrews" is actually two people, my husband, Gordon, and I. We write urban fantasy, an odd hybrid of a genre that includes elements of mystery, fantasy, and horror. Our stories are set in a modern setting that has a touch of paranormal to it. ~ (7) Ilona Andrews
Biography: Ilona Andrews is the pseudonym for a husband-and-wife writing team. Author Ilona is a native-born Russian and Gordon is a former communications sergeant in the U.S. Army. Contrary to popular belief, Gordon was never an intelligence officer with a license to kill, and Ilona was never the mysterious Russian spy who seduced him. They met in college, in English Composition 101, where Ilona got a better grade. (Gordon is still sore about that.)
Gordon and Ilona currently reside in Oregon with their two children, three dogs and a cat. They have co-authored two series, the bestselling urban fantasy of Kate Daniels and romantic urban fantasy of The Edge. ~ from: Goodreads | Ilona Andrews
Publishers: Ace (KD), Penguin Berkely Ace (Edge), Avon (HL), Samhain Publishing & NYLA (IC)
Reviews and Awards ~ Author's site
Bibliography / Books: 
Summaries: 
Author websites devoted to Series:
Excerpts & Free Stories:
Series info Pages:
World, Characters, etc:
Reviews: 
Interviews, Commentary: 
Video Interviews:
News: 
Author:
Forums: 
Community:
Community content is available under
CC-BY-SA
unless otherwise noted.