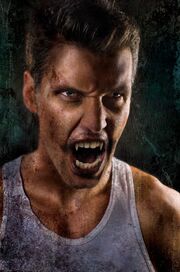 List of Vampire and Half-Vampires (Dhampires) of Urban Fantasy — Characters
List is a work in progress...
This list covers the vampires mainly in the Urban Fantasy genre with only a few Paranormal Romance (PNR) and a few Young Adult. The rule of thumb for inclusion on this list is the same as any series for inclusion on this Wiki: if the character/series has enough cross-over following to be of interest to Urban fantasy readers. This is an Urban Fantasy Wiki—not PNR or YA.
Please, only make page-links of the more major characters, and make the pages as you go. Do NOT make a whole ton of link leaving a lot of work for other people—or a lot of housekeeping work for the Admin.
Vampire Character List
[
]
Left off: Awakened by Blood (vamps as main supe)
A–G
[
]
Vampire Characters

| Name | Mate / Spouse / Lover | Friends | Enemies | Sire  | Supe Abilities / Skills | About | Series / Book |
| --- | --- | --- | --- | --- | --- | --- | --- |
| Acheron | Soteria, "Tory" | Simi;  Julian & Grace | Artemis, Stryker, Daemons | Artemis | part god | Leader of Dark-Hunters | Dark-Hunter series |
| Alexandra Sabian | Varik Baudelaire | | | | | FBPI enforcer | Alexandra Sabian series |
| Amber Farrell | Alex | David | Krantz | jungle vamp | becoming Athanate | ex-ops, Denver PI | Bite Back series |
| Anna Strong | Max, others | David Ryan, partner | Revengers | a rogue | usual | bounty hunter | Anna Strong Chronicles |
| | | | | | | | |
| Bianca St. Claire | | Paolo Ortega | Harry Dresden | | | Red Court | Dresden Files |
| | | | | | | | |
| Bones | Cat Crawfield | Spade, Ian, Rodney, Mencheres | Gregor, Max, Apollyon | Ian Flannery | fly, telepath, telekinisis | Master vampire; bounty hunter | Night Huntress |
| | | | | | | | |
| Carlos Rivera | Damali Richards | Father Patrick | Lilith, Chairman, Lucifer | Fallon Nuit | Neteru powers | Chose the Light  | Vampire Huntress Legend |
| Cat Crawfield | Bones | Denise, Vlad, Fabian | Max, Apollyon, Gregor, | Bones | depend on whose blood she drinks | born half vampire | Night Huntress |
| | | | | | | | |
| Dante Baptiste | Heather Wallace | Lucien de Noir; Von (sidekick) | doctors Moore & Wells | Lucien de Noir | True Blood & Fallen Angel | rock band | Maker's Song series |
| | | | | | | | |
H–L
[
]
M–P
[
]
Vampire Characters

| Name | Mate / Spouse / Lover | Friends | Enemies | Sire  | Supe Abilities / Skills | About | Series / Book |
| --- | --- | --- | --- | --- | --- | --- | --- |
| Mencheres | | Bones & Cat | | | Telepath, telekinisis, fly,  | | Night Huntress |
| | | | | | | | |
| Mircea Basarab | Cassandra Pamer | | | | | | Cassandra Palmer & Dorina Basarab |
| | | | | | | | |
| Myrnin | none | Claire & Amelie | | | mad scientist, Alchemist | fanged bunnie slippers | Morganville Vampires |
| | | | | | | | |
Q–T
[
]
U–Z
[
]
Vampire Characters

| Name | Mate / Spouse / Lover | Friends | Enemies | Sire  | Supe Abilities / Skills | About | Series / Book |
| --- | --- | --- | --- | --- | --- | --- | --- |
| | | | | | | | |
| Vlad Tepesh | Leila | Cat Crawfield | | Tenoch | Fire, fly, telepath | | Night Prince, Night Huntress |
| | | | | | | | |
| | | | | | | | |
| | | | | | | | |
| | | | | | | | |
Dhampire (Half Vampires) List
[
]
Dhampire Characters

| Name | Mate, Spouse, Lover | Friends | Enemies | Mix | Supe Abilities / Skills | About | Series / Book |
| --- | --- | --- | --- | --- | --- | --- | --- |
| Cat Crawfield | Bones | Denise, Vlad | | Human-vampire | Strenth, speed, | born half vampire | Night Huntress |
| Celia Graves | Bruno DeLuca (ex) | Vicki, Bob, Kevin, Fat. DeLuca, Dottie, Karl, Dawna | Siren Queen, | Siren–Vampire, human | Siren powers (?), daywalker, liquid diet; | transformed during a case: Abomination | Blood Singer |
| Dimitri Belikov  | Rose Hathaway | Lissa Dragomir | | Human-Moroi vampire | strength, speed | | Vampire Academy |
| Dorina Basarab | Louis-Cesare de Bourbon | / Dracula | | Human-vampire | | Mircea's daughter | Dorina Basarab |
| Jimmy Sanducci | Elizabeth Phoenix | Federation, Ruthie | Nephilim demons | half vampire / half human | strength, speed, heal; good at finding, killing bloodsuckers | awakens Liz to the War | Phoenix Chronicles series |
| Riley Jenson | Quinn,  | twin bro: | | vampire werewolf, were-sparrow | strength, shifting,  | born half Were-half vampire | Riley Jenson Guardian |
| Rose Hathaway | Dimitri Belikov | Lissa Dragomir | | Human-Moroi vampire | strength, speed | | Vampire Academy |
| Susan Rodriguez | Harry Dresden | Daughter: Maggie | | Human Vamp "Red Court infected" | ([Link]) | | Dresden Files series |
| | | | | | | | |
| | | | | | | | |
| | | | | | | | |
| | | | | | | | |
See Also
[
]
See Category links at bottom of page
References
[
]
Vampire Lists:
Urban fantasy lists:
List of UF Blogs
[
]
(links need the made)
After Dark Rendezvous
All Things Urban Fantasy
Drey's library
Fade Into Fantasy
Gizmo's Reviews
I Smell Sheep
In the Pages of a Good Book
Literal Addiction
Mad Hatter Reads
Magical Urban Fantasy Reads
My Bookish Ways
Paranormal Cravings
Paranormal Haven
Rex Robot Reviews
SciFiChick.com
Smexy Books
That's What I'm Talking About
The Book Nympho
The Book Swarm
The Enchanted Alley
Under the Covers Book Blog
Urban Fantasy Investigations
Vampire Book Club